SCG Cinema
September 15th - October 20th, 2016
$20
There's a reason we love great movies. It's because we are created in the image of a God who writes epic stories. Every saga we view full of love, war, and adventure stand in the shadow of the greatest narrative ever told. These are stories that God is writing in and through us right now!
Join us for a six week journey through some of the best movies of our time as we learn about THE STORY in each story.
September 15-October 20 7-9pm @thewarehouse
Role Models- How To Matter Forever
September 20th - October 25th, 2016
$20
Our world is desperate for good Role Models to follow. Scripture gives us a mandate to become people who impact this world for good. But before we can do that, we need to learn how to become someone worth following.
Join us for a six-week class as we discuss the basics of becoming an effective mentor.
September 20th - October 25th.
Cost is $20 and includes a course pack every week.
Questions? Contact ryan@seacoastgrace.org
Volunteer Orientation
October 2nd, 2016
If you're looking to serve here at SCG, this is where you start! Come to volunteer orientation to learn more about SeaCoast and the service opportunity that God has waiting for you.
We're grateful for each person who offers to step up and serve at SeaCoast! No matter what team you end up serving on, your position is important.
Volunteer Orientation will be held in The Warehouse from 11:45AM-2:45PM on October 2nd.
Lunch and childcare provided
SCG Young Adults Membership Class
October 2nd, 2016
$5
This is a two week course designed to prepare you to become a Church Member at SCG Young Adults. We will be covering the role the church plays in the world, the role the church plays in the life of its members, and the role you will play in the church. We will discuss questions like: "Why become a church member?" and "What's the difference between a member and a non-member?".
Prior to the class start date we ask that you have read our Church Membership packet as well as our required Church Membership book reading by Jonathan Leeman. If you need to receive these materials and have not yet, please contact tara@seacoastgrace.org.
Location: Warehouse East Cost: $5 (to cover class materials)
Big Wednesdays
October 5th - November 2nd, 2016
$40
BIG Wednesdays are back and bigger than ever! Doyle and Connie will be joining us for five weeks to share their insights on parenting from a biblical and personal perspective.
Whether you're a nuclear family, a single parent, a blended family, or anything in between, we want to help you raise kids who love Jesus and not just turn out well, but marry well!
The cost is $40 per family
Dinner (optional) will be served from 5:45-6:30pm. The cost of dinner will be $5-$7/person and available for purchase on Wednesdays
Programs will be from 6:30-7:45pm. KIDS program available for all ages through high school*
*Please note: High School service starts at 7pm
Be Brave
October 7th, 2016
$10
Who is the bravest woman you know? Is it someone famous? Your best friend? Your mom?
The women of SCG are celebrating what it means to be the kind of woman who throws caution to the wind, laughs in the face of danger, and who makes the bold choice in the face of insecurity.
Author and national speaker, Shelene Bryan, was an average LA mom whose life took a dramatic turn when she took a trip to Africa. She wanted to see if the children her family had sponsored through a food program were real. Her first small step of obedience launched her into a wild life of loving the poor, bringing change, and challenging women to step out with ridiculous faith.
Be Brave will encourage you with worship, inspire you through story, and convince you that true bravery is found in the everyday act of making the next (big or little) courageous choice.
YNG WMNS Sleepover
October 14th - October 15th, 2016
$10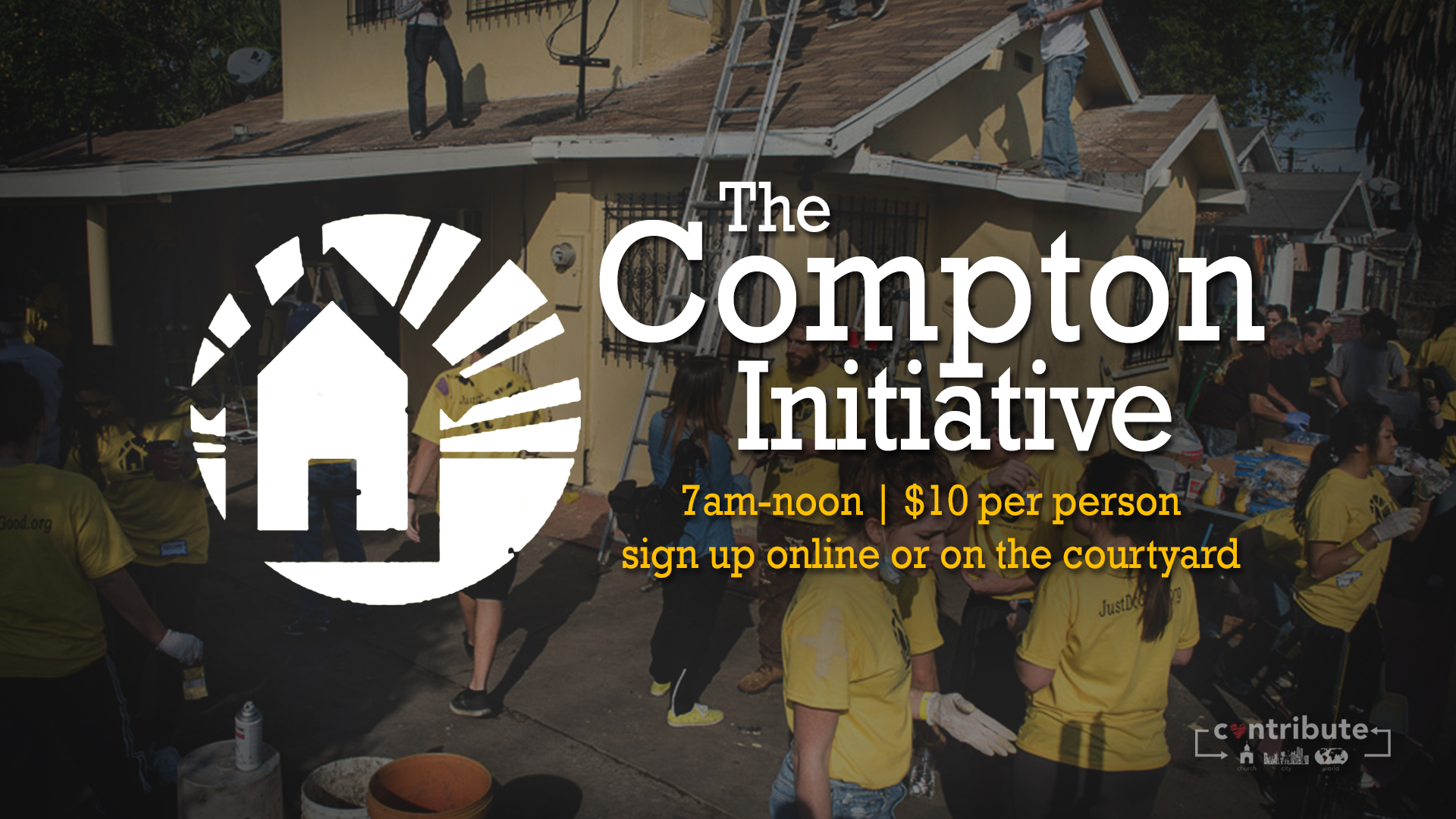 Compton Initiative
October 15th, 2016
$10
On October 15th we have our next Compton workday. We are going to be taking on THREE houses once again. That means we have a ton of work to do, so come on out and join us as we help our partner church, Victory Outreach, beautify multiple homes in their surrounding neighborhood. We will be painting, picking up trash, landscaping, and much more.
Cost is $10 and includes breakfast and lunch so bring the whole family out (ages 7 and up) and lets go love our neighbors!
First Ladies
October 17th, 2016
$10
It's Time to Get Real With The First Ladies
They were the original power brokers, the women who shaped the course of history and molded nations to their will. The first women to walk the face of the Earth. The women of Genesis...demystified.
Join us as we dive into the stories of the women of Genesis in this 6 week class. We will take a broad look at the role they played within their time and place in history, as well as examining how their stories can continue to impact our lives today.
This class is perfect for Bible newbies and pros alike. We will be taking what--let's face it--can be a big scary book and breaking it down to it's simplest core: the stories of amazing women that will change your life!
Flourish
December 14th, 2016
$25
Flourish is a weekly book study designed for moms of school-aged children who want to invest deeply in a relationship with God. This group is focused on a study called Missional Motherhood: The Everyday Ministry of Motherhood in the Grand Plan of God by Gloria Furman. Our Wednesday meetings are designed to equip and unite us as we embrace the mission field of motherhood together.
Start date: Wednesday, September 28th 9:30 a.m-11:00 a.m
End date: Wednesday, December 14th 9:30 a.m-11:00 a.m